*RE-ACCREDITED 'A' GRADE AT 3.28 CGPA BY NAAC * RECOGNIZED BY NCTE & UGC UNDER SECTION 2(F) & 12(B)
* COVERED UNDER 95% DEFICIT GRANT-IN-AID SCHEME BY GOVT. OF PUNJAB
* PERMANENTLY AFFILIATED TO G.N.D.U. AMRITSAR
HERITAGE GUEST HOUSE
Catering to the growing needs of Khalsa Institutions, the Management has established Heritage Guest House.   It will be open to all intellectuals, scholars, academicians, examiners, experts, guest lecturers, visiting faculty and the guests visiting various Khalsa Institutions in the Holy City of Amritsar.
Location
The Guest House is located on the Khalsa collage campus which is a land mark in the city of golden temple.surrouneded by lush green fields and pollution free environment, it is a wonderful sojourn of tradition and modernity.the location is prominent and accessible.
Accommodation
14 Tastefully Decorated Rooms with attached Bathrooms.  
Distances(from the guest house)
| | |
| --- | --- |
| From Amritsar Railway Station | 3 Kms. |
| From Amritsar Bus Stand           | 5Kms. |
| From International Air Port        | 11 Kms. |
Prominent places in Amritsar
Golden Temple (7 Kms.)
Durgiana Temple (4 Kms.)
Jallianwala Bagh (7 Kms.)
Maharaja Ranjit Singh Panorama/Ram Bagh(4 Kms.)
Gobind Garh Fort(4 Kms.)
Sun City Park (8 Kms.)
Ram Tirath (10 Kms.)
International Border/Wagha Border (21 Kms.)        
Syllabus
Master of Education (M.ed.)
BACHELOR OF EDUCATION (B.Ed.)
PGDCA (TEACHER EDUCATION)
About College
Our History
Management
Guest House
Journal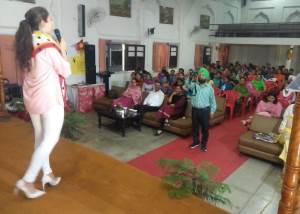 ---