*RE-ACCREDITED 'A' GRADE AT 3.28 CGPA BY NAAC * RECOGNIZED BY NCTE & UGC UNDER SECTION 2(F) & 12(B)
* COVERED UNDER 95% DEFICIT GRANT-IN-AID SCHEME BY GOVT. OF PUNJAB
* PERMANENTLY AFFILIATED TO G.N.D.U. AMRITSAR
PLACEMENT

cell

The education is a future investment. The main objective of any institution of excellence is not only to provide a healthy quality education, but also to prepare the future citizens for globally compatible skills. This institution not only excels in the field of Teacher Education but it is also highly rated in the field of needs of the society. The college has established a Placement Cell under the guidance and supervision of Dr. Bindu Sharma, M.Sc. (Bot), M.A. (Psy.), M.Ed., UGC (Edu.), Ph.D(Edu.), Dr. Deepika Kolhi M.Com, M.Ed. UGC (Edu./jrf), Ph.D(Edu.). Ms Manpreet Kaur M.A. (Psy.), M.Ed., UGC (Edu. & Psy.). Curriculum vitae of the students is collected at the end of the session and a proper record of placements is kept. There is a hundred per cent placements for M.Ed. students of our college.

Following are the Institutions where Maximum students are placed.

The institution has placed maximum students in the reputed schools of   the city.  Various institutions where maximum students are placed:
   Spring Dale Sen. Sec. School
   Miri Piri Academy
   Ryan International School
   Cambridge School
   Gd Goenka Shchool
   Delhi Public School
   Shri Guru Harkrishan School
   Alpine Public School
   D.A.V Public School, Lawrence Rd., Asr.
   Khalsa Sen. Sec. School (Boys) Asr.
   Khalsa Public School, G.T. Road, Asr.
LIBRARY
"If we are ignorant we are so, by choice, when there is a library within a walkable distance, with a store house of wisdom and knowledge".
To inculcate habit of self study the college has a well equipped library, with more than 18 thousand volumes. Apart from text books, there are encyclopaedias, research journals, monographs, dissertations (M.Ed., M.Phil., Ph.D.), magazines and news papers. The students are expected to make maximum use of the library. To keep the books in circulation and make them available to all students the withdrawl of books will be governed by the following rules
| | |
| --- | --- |
| B.Ed. | 3 books at a time. |
| M.Ed. | 4 books at a time. |
| Staff | 8 books at a time. |
These books must be renewed after two weeks and four weeks by the students and staff respectively. When you borrow the books from the library check them thoroughly, after you have got them issued in your name then it is your responsibility to return them in proper form. Don't underline the pages or disfigure them. Disfigured books will not be accepted by the Librarian and you will have to replace them. Each student will be issued a library cum identity card, which the students will always keep in person. In case this card is lost, duplicate card will be issued on payment of Rs.50.
Syllabus
Master of Education (M.ed.)
BACHELOR OF EDUCATION (B.Ed.)
PGDCA (TEACHER EDUCATION)
About College
Our History
Management
Guest House
Journal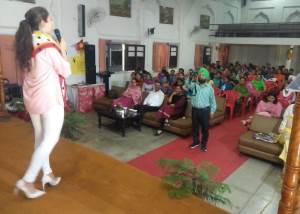 ---